This year's Google I/O developer conference was filled with interesting announcements, particularly in the AI and imaging department. The search giant even took the stage to announce three new Pixel devices: the Pixel 7a, the Pixel Tablet, and the Pixel Fold. Notably, Big G also announced a new photo format for capturing images, called Ultra HDR. This photo format will be released with Android 14, and lucky for us, Qualcomm Snapdragon 8 Gen 2-equipped smartphones are all ready to support it.
Ultra HDR can offer a dynamic range beyond 8-bits
During the I/O 2023, Google introduced Ultra HDR as a new photo format for clicking pictures. The company explains that the format will allow photos to be captured in the backward-compatible JPEG format, but offer a dynamic range beyond 8 bits. This will enable phones to shoot photos with more details in shadows and highlights.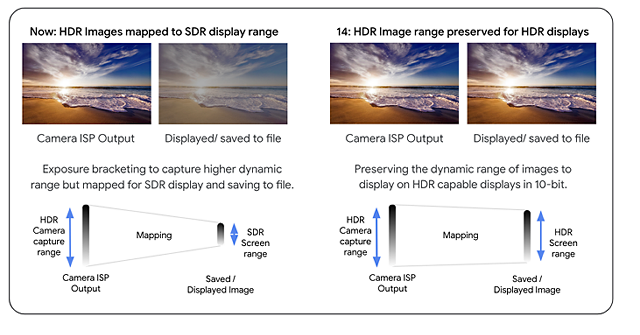 According to Google, Ultra HDR images can be displayed in a variety of ways, from a standard dynamic range (SDR) to a high dynamic range (HDR). The final result is adaptive and depends on the original intent of the user, the capabilities of the display, and the viewing environment.  Additionally, images in this format are backward compatible with existing apps. So, it doesn't matter if an app does not have HDR capabilities, it can still show the image as an SDR JPEG file. This makes it easy to share Ultra HDR images with others, even if their device doesn't support the format.
This format will be rolled out with Android 14 and Qualcomm has been working with the Android team to make use of Snapdragon 8 Gen 2's 18-bit ISP for the Ultra HDR format. As a result, the Snapdragon 8 Gen 2-powered phones will be able to support Ultra HDR photo capture as soon as it rolls out.
RELATED:
(Source)