There was a time when the classic flip phone was the first thing that came to mind when you thought of a cell phone — before the smartphone era ushered in the rectangular glass, metal, and plastic slabs we've come to know and love. Nevertheless, the venerable flip design lives on not only in classic feature phones, but it's making a comeback, with modern smartphones reimagining the concept to create powerful yet fun and compact designs. As such, keeping track of the best flip phones in 2023 makes more sense than you may think!
The feature flip phones of today still hearken back to their pre-smartphone counterparts, focusing on basics like calls and texting while providing battery life that's measured in days instead of hours. They're reasonably priced, very pocketable, often much more durable, and make a great option if traditional voice calls are your primary reason for carrying a cell phone.
However, there's also good news for folks who want the best of both worlds — the more compact size a flip phone offers with the powerful features of a modern smartphone. New designs such as Samsung's Galaxy Z Flip 4 and Galaxy Z Fold 4 meld the concept of classic flip phones with gorgeous touchscreens and all the power that Android has to offer. Whether you just want something cheap and compact for making calls or you're looking for a productivity powerhouse, one of the best flip phones on our list will have you covered.
Samsung Galaxy Z Flip 4
Best flip phone overall
Pros
Flatter design looks and feels fantastic
Bespoke customization is unmatched
Excellent main display
Blazing fast performance
Good, fun cameras
Cons
Battery still only lasts a day
Limited cover screen functionality
Why you should buy this: It's discreet, powerful, durable, and fun.
Who it's for: Anyone who wants a capable, pocket-sized flip phone.
Why we chose the Samsung Galaxy Z Flip 4: It's the latest in the line of folding smartphones from Samsung, released alongside the Galaxy Z Fold 4. It's a beautifully compact smartphone but also packs a punch.
The Samsung Galaxy Z Flip 4 is a nearly flawless combination of design, performance, and durability. It features a flatter, more streamlined design than its predecessor, while its Armor Aluminum frame and Corning Gorilla Victus+ rear will protect it from mishaps. Once you have it flipped open, its gorgeous 6.7-inch Dynamic AMOLED 2X display will deliver a 120Hz refresh rate and a resolution of 2640 x 1080 pixels, making for some breathtaking visuals. At the same time, you can leave the phone closed and check the 1.9-inch Super AMOLED cover display for notifications and other bitesize info.
It may look pretty, but the phone is also seriously high-powered, featuring the Qualcomm Snapdragon 8+ Gen 1 chipset under its hood. So not only will users have possibly the most attractive Android smartphone around, but also one of the most powerful, with its 8GB of RAM more than enough to handle 99.9% of the tasks you'll throw at it. There is also an exciting range of special features to enjoy, including the return of Flex Mode, which lets you sit the half-folded phone up at a right angle, with one app opened in the top half of the screen and a control panel opened at the bottom.
If that weren't enough, the Z Flip 4's triple-lens camera system is great for taking everyday photos and offers enough versatility to capture more specialized images. Combined with a decent-sized 3,700mAh battery, it's enough to make the phone the complete package.
Samsung Galaxy Z Flip 4
Best flip phone overall
Motorola Razr (2020)
Best flip phone runner-up
Pros
Splash resistance
3D curved glass on both sides
Camera rocks a new 48-megapixel sensor
Cons
Weaker processor for the price
Why you should buy this: Small size, convenient form factor, and updated connectivity make the Moto Razr 2020 a most appealing choice.
Who it's for: If you're looking for a streamlined, upscale flip phone, the Moto Razr 2020 should be in your pocket.
Why we chose the Motorola Razr (2020): Throwback favorites like the Alcatel Go Flip have been upstaged by the overhauled Motorola Razr, which is in a class by itself. This updated model is Motorola's successor to the Razr 2019 and addresses many of the complaints about the older phone, including a lack of splash resistance. The Razr 2020, available unlocked, heavily resembles the look of the older model, with the same size, clamshell design, and dimensions, as well as the internal 6.2-inch 21:9 foldable display, external 2.7-inch Quick View display, and 5G connectivity.
It also runs the same software — though the Quick View display can now run any app, accomplish quick tasks, and reply to messages. The new device sports 3D curved glass on both sides with an aluminum frame in three great colors: black, gold, and gray. The chin at the bottom is smoother and smaller, and the fingerprint sensor is now on the back of the phone. All of this goodness comes at a high price, but if you aren't a fan of the Z Flip 4 for whatever reason, it's a decent option to consider.
Motorola Razr (2020)
Best flip phone runner-up
Alcatel Go Flip 3
Best basic flip phone
Pros
Feature phone
Simple to use
4G LTE compatibility
Cons
No smart features
Weak camera
Why you should buy this: No-nonsense service at a reasonable price.
Who it's for: People who want the basics with a splash of style will love the popular model.
Why we chose the Alcatel Go Flip 3: As one of the most popular flip-phone models, the Alcatel Go Flip 3 offers an easy-to-use interface and intuitive keypad design for dialing and navigation. Powered by KaiOS, and sporting a 4G LTE connection, you can use this phone for email, calendar, web surfing, and, of course, calling and texting. It has a quad-core processor, built-in GPS, Wi-Fi, and Bluetooth, and comes with 4GB of storage that can be expanded up to 32GB by adding your own SD card. There's a 2.8-inch display, as well as an external display that lets you preview incoming calls, notifications, and messages. The battery provides about 17 days of standby time, with eight hours of talk time. It has a 2-megapixel camera you can use to capture still images and 720p HD video. All of this comes encased in a neat clamshell body. It's available for Boost Mobile, T-Mobile, and AT&T.
Alcatel Go Flip 3
Best basic flip phone
LG B470 Flip Phone
Best pre-paid flip phone
Cons
No smart features or apps
Why you should buy this: No-frills, prepaid flip phone does the job and provides long battery life.
Who it's for: AT&T customers who want a basic, low-cost, prepaid, easy flip phone.
Why we chose the LG B470: If you're looking for a flip phone with a few appealing extras, there's the LG B470 prepaid basic flip phone, offering a 1.3MP camera with zoom and customizable effects and built-in Bluetooth. It can even download and play multimedia files like video and music. The outer 0.98-inch display is monochrome, which helps extend its week-long battery life and lets you instantly read texts without having to actually flip it open. A colorful 2.2-inch main display is accompanied by an enhanced audio mode that augments high frequencies. A text-to-speech feature reads texts aloud, a benefit for folks with vision issues. It works on AT&T.
LG B470 Flip Phone
Best pre-paid flip phone
Jitterbug Flip2 Cell Phone for Seniors
Best flip phone for seniors
Pros
Great for seniors
Easy to use
Amazon Alexa
Cons
Still limited in smart features
Why you should buy this: This easy-to-use phone delivers all the services needed for the elderly, infirm, or tech newcomers.
Who it's for: This phone is designed for and directly appeals to older folks who may need medical services and those who are not technical.
Why we chose the Jitterbug Flip2 Cell Phone for Seniors: Heavily advertised and promoted as the preferred phone for seniors, the Jitterbug Flip2 has numerous features that appeal to all cellphone newcomers and people who prefer a simpler, more limited device. The Flip2 sports a large screen, big buttons, a powerful speaker, a simple list-based menu, and Amazon Alexa to make navigating the phone and placing calls a breeze.
It's been developed in partnership with Lively, so it won't work on other carriers, but the companion service provides a number of nice extras, including a dedicated urgent response button to summon help in an emergency, plus access to doctors, nurses, and caregiver tools. It has U.S.-based live customer service with no long-term contracts, so you can change plans anytime. Select from a minutes plan and Health & Safety Package — unlimited talk and text cost $20 per month. Lively has also teamed up with Lyft to provide a car service where an operator can help schedule a ride, day or night. It comes in gray or red.
Jitterbug Flip2 Cell Phone for Seniors
Best flip phone for seniors
Kyocera DuraXE Epic
Best rugged flip phone
Pros
Durable and strong
Big, easy to press buttons
Waterproof
Cons
Limited internal storage
Weak camera
Why you should buy this: Kyocera is an old hand in the cell phone arena and offers a small yet mighty flip phone to accompany you on your journeys to work or play.
Who it's for: Folks who want a small, pocketable phone that can withstand rigorous conditions.
Why we chose the Kyocera DuraXE Epic: A rugged flip phone that can survive some tough environments, Kyocera's DuraXE Epic for AT&T promises to keep your connection live and easy to hear. This hardy specimen is military-grade waterproof, dustproof, shockproof, and can withstand drops onto solid concrete from a height of five feet. Its chamfered corners and reinforced hinge provide the ultimate protection and durability. It has 16GB of internal storage with a MicroSD card slot that allows you to add up to 512GB more capacity. Recessed sides and textured panels provide a secure grip, while loud 100+dB front-facing speakers deliver clear sound with dual-mic noise cancellation for noisy surroundings. You get over nine hours of talk and 16 and 18 days of standby time, as well as Bluetooth and Wi-Fi.
Kyocera DuraXE Epic
Best rugged flip phone
ZTE Cymbal Z-320 Flip Phone
Best cheap flip phone
Pros
Good price
FM radio
Simple feature phone
Cons
Weak camera
No smart features
Why you should buy this: This is a basic phone that covers all the bases at a reasonable price.
Who it's for: Anyone looking for a good performing flip phone that won't break their bank account.
Why we chose the ZTE Cymbal Z-320 Flip Phone: A moderately-priced, compact flipper, the ZTE Cymbal Z-320, unlocked and LTE-enabled, has some cool features. Start with a 2.8-inch main display and 1-inch external OLED display and pile on a modest 2MP camera and camcorder for the pocketable basics, accompanied by Bluetooth 4.1 and FM radio. It's easy to use — the phone's large buttons facilitate swift, accurate texting. When it comes to yakking, you get up to 15.5 hours of talk time and 195 hours of standby time.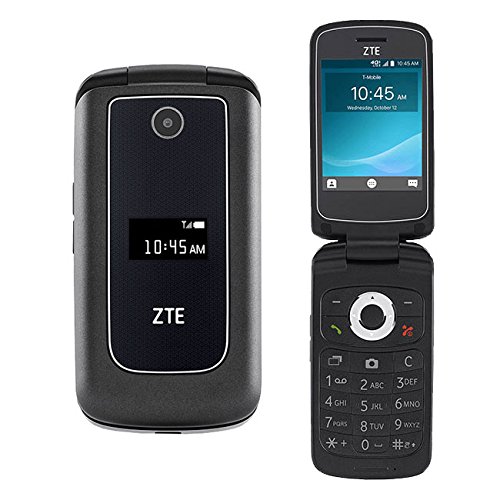 ZTE Cymbal Z-320 Flip Phone
Best cheap flip phone
Frequently Asked Questions
Why buy a flip phone?
Long battery life is one of the biggest advantages of a traditional flip phone. While most smartphones need to hit the charger every night, the battery on a feature phone can last for a week or longer without a charge. Since they don't need to show as much information or play high-definition movies and games, flip phones can use smaller and more durable screens than their all-glass smartphone counterparts. This makes them ideal for folks who want to ensure they can stay connected on long trips or work in remote areas under challenging conditions.
If you're truly old school and believe phones should strictly be for making calls and not surfing Facebook, then a feature flip phone is for you. You'll be able to focus on your call instead of spending time and battery life on social media apps or games. When you're not on a call, your flip phone stays mainly offline and hidden from location services, beacons, and spyware. Plus, most flip phones don't store or send personal data, so most hackers won't bother with them compared to the wealth of data found in smartphones.
If you're concerned with phone call quality, don't worry — a good flip phone will give you a perfectly clear call experience. Some include Bluetooth capabilities so that you can use wireless earbuds and headsets with them. More traditional flip phones are especially loved by older customers because they don't have to learn how to navigate through all of the different features, options, and pesky touch and swipe screen controls; most flip phones use traditional buttons to make calls and write messages.
However, there's a whole new generation of flip phones that will appeal to folks with more modern tastes, adapting powerful Android smartphones into a novel folding form factor with dual screens and catchy designs. These latest flip phones are full-featured smartphones in a more compact package, making them ideal for the smallest pant or shirt pocket. Battery life may be a bit shorter than what you're used to in modern flagships, as the more compact size leaves less room for larger batteries. The foldable design is still novel and something that's appealing to a younger generation who weren't around the first time flip phones like the Motorola Razr hit the market. Modern flip phones like Samsung's Z Flip 4 also come in a wide array of colors to attract younger buyers.
Ultimately, the novelty of the folding form factor is as good a reason as any to choose a flip phone, but by buying one of the latest releases, you're also getting excellent specs too, and while Motorola has tried its hand at reinventing its classic Razr design, it's Samsung that's clearly leading the folding phone revolution.
Which flip phones are best for older people?
If you're an older customer looking for an easy-to-use phone — or you're buying a flip phone for an older family member — we recommend the Jitterbug Flip2, although any of the flip feature phones on our list should be relatively easy to set up and use. The Jitterbug Flip2 has a large, bright screen, a generous keypad, an earpiece that works with hearing aids, and a dedicated button to summon emergency help or car rides, a flashlight, and a camera.
What's the best flip smartphone?
Samsung's Galaxy Z Flip 4is, hands-down, the best flip-style smartphone on the market right now. Samsung has slowly been revolutionizing the flip smartphone market, and it's come of age over the last couple of years. The 2021 Galaxy Z Flip 3 was already an impressive piece of kit, and its successor has taken that great design and made it even better, with a faster chip, improved battery life and faster charging, and some nice design refinements.
Today's tech news, curated and condensed for your inbox
Check your inbox!
Please provide a valid email address to continue.
This email address is currently on file. If you are not receiving newsletters, please check your spam folder.
Sorry, an error occurred during subscription. Please try again later.
Editors' Recommendations