Readers like you help support Android Police. When you make a purchase using links on our site, we may earn an affiliate commission. Read More.
It's sometimes easy to forget that WhatsApp is actually owned by Meta, just like Facebook and Instagram. While the latter two are often used to share things with the world, WhatsApp messages are usually a bit more private. It looks like soon, however, WhatsApp users might have the opportunity to share their status updates on Facebook as well.
We first reported the feature was in development last week. It's also something you can technically already do between the two apps. Currently, if you want to share your status update from WhatsApp to Facebook, you have to manually ask the app to share the message each time.
Today, WhatsApp added the ability to share your status updates on the service directly on Facebook with no additional work necessary. WABetaInfo spotted the feature in the newest beta release currently rolling out through the Google Play Beta Program.
Version 2.23.9.23 added a "Share my status across my accounts" option under Status privacy, which, once activated, will automatically share your status via your Facebook Story at the same time as posting on WhatsApp without ever leaving the app.
WABetaInfo"" data-modal-id="single-image-modal" data-modal-container-id="single-image-modal-container" data-img-caption="null">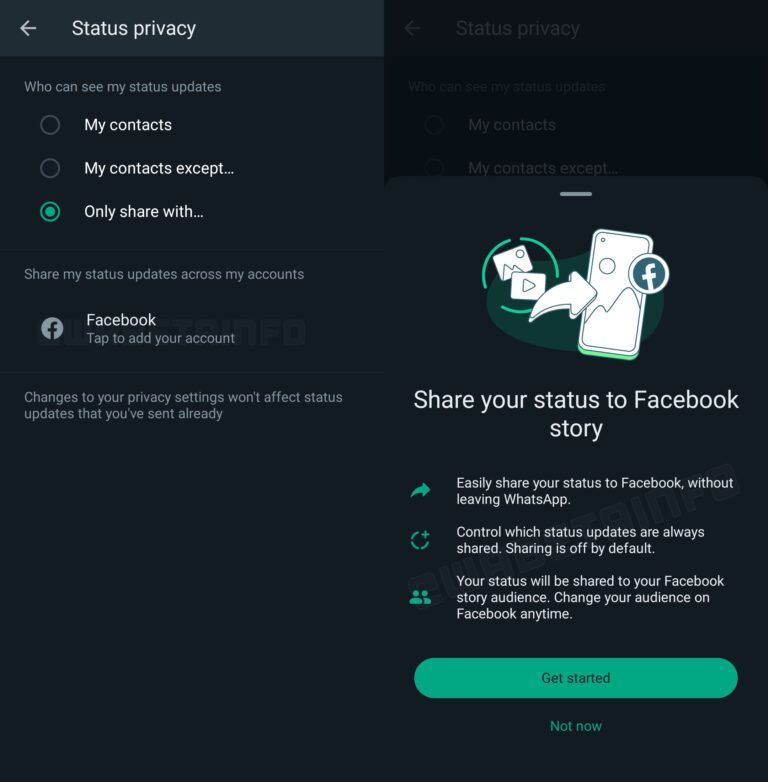 The audience you share your Facebook Story with is controlled by your Facebook privacy settings. Sharing is off by default, so if you like to keep your social networks separate, you won't be obligated to share the same status on both platforms. If you do tend to keep your WhatsApp more private than Facebook, you may also want to look into who can see your Facebook Stories before signing up to have those status messages share by default.
The update adds to the serious revamp WhatsApp status updates got in February of this year. Then, the app added the ability to make status updates more private and customize what contacts they were shared with. It also added the ability to leave voice messages as status updates and for contacts to react to status messages.
That feature originally showed up in the beta in September 2022, suggesting that we might have to wait a few months for the new ability for status messages to be shared on Facebook to roll out to everyone, but we'll be on the lookout for when it does.