Despite being some of the best Android phones you can buy today, the Galaxy S22 Ultra and its little brothers do not ship with a charger in the box anymore. Honestly, good riddance! The in-box charger would've been a 25W charger instead of something with a top charging speed of 45W available on the S22+ and S22 Ultra.
Samsung's 45W Super Fast Charging is built upon Programmable Power Supply, a specialized certification within the Power Delivery umbrella. While PPS is showing up on more lower-wattage chargers, it started — and remains the most futureproof — on laptop-grade chargers. Whether you want a charger that will charge your S22 Ultra and your laptop at full speed at once, or you need a super-small 45W charger to live in your purse or pocket, we've gathered the best 45W Galaxy S22 Ultra chargers right here.
What if I have a regular Galaxy S22? That's okay, too. Each of these chargers will charge the Galaxy S22 at up to 25W. (Just remember, folks, you'll only see the highest of high speeds when your phone is close to dead and not overheated.)
Power Delivery charges everything from laptops and power stations to e-readers and wireless earbuds, giving rise to the idea of the "one-charger life." Rather than relying on multiple chargers/cables and their resulting clutter, smart shopping enables you to obtain one charger to rule them all. The UGREEN's 3-in-1 USB-C Wall Charger will fulfill that role wonderfully for most Galaxy S22 Ultra owners. Either USB-C port can give the S22+ 45W when it's the only port in use. While two USB-C devices are plugged in, the top port can give your S22 Ultra 45W, while the second port charges your accessory (or your husband's phone) at 20W.
The folding prongs and more square footprint help it find room whether you're using it at your desk or finding space in the computer lab's overcrowded surge protector. The only flaw with this charger is that it doesn't come with a cable. Thanks to its affordable price, you can find an excellent 5A-rated cable in the size and configuration you want.
Charges S22 Ultra at 45W even when charging three devices
Dual USB-C ports provide good power ratio for cross-platform houses
Compact design with folding prongs
Frequently discounted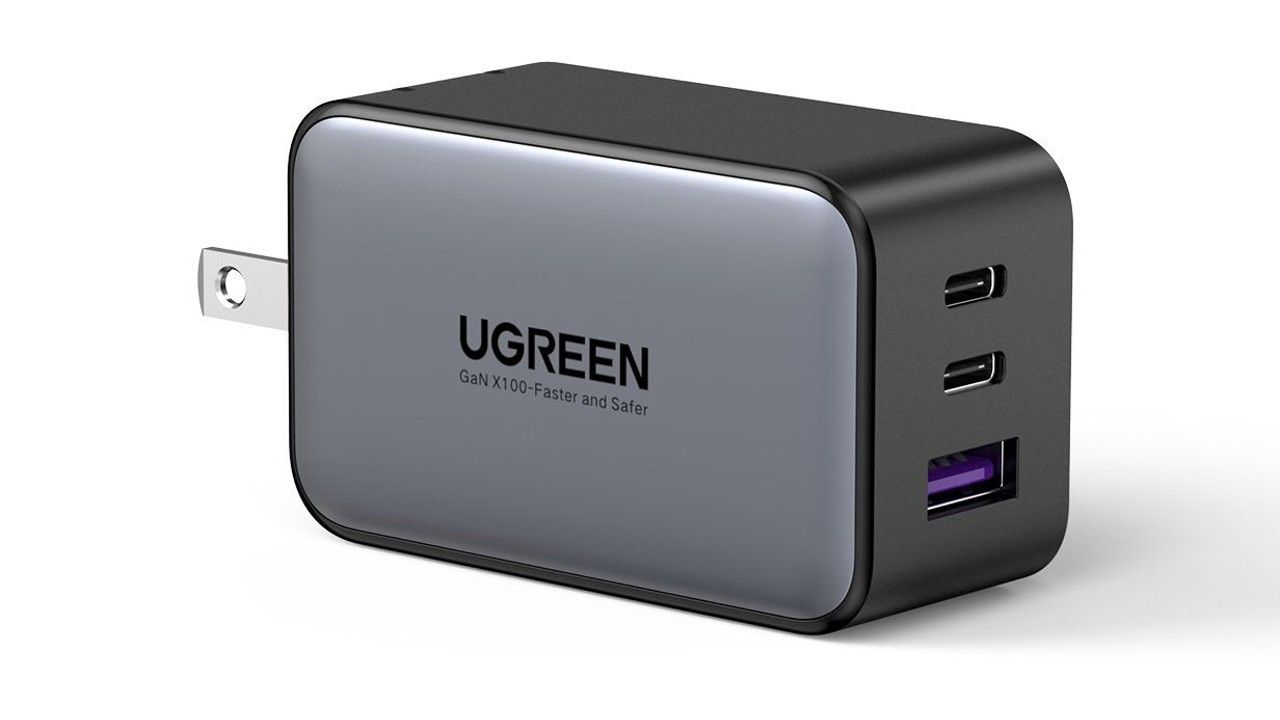 UGREEN 65W 3-in-1 USB-C Wall Charger
When you look for the best charger, power banks, and cables, Anker undoubtedly sits among the best brands in the business, known for enduring reliability and exceptional build quality. Sitting in its most premium Series 7 lineup, the Nano II 45W could comfortably be called the best single-plug charger on the market today. This 45W charger is smaller than most 18W-30W chargers, slightly smaller than a golf ball, with an understated yet eye-catching two-tone design. Rather than going hex black or blinding white — both of which show every speck and scuff — the dark grey housing is a little more forgiving of wear and tear while the shiny faceplate draws the eye. The small, square footprint lets the Nano II squeeze even when the power strip at the library or your gate overcrowds. While Anker makes a 65W version, that one starts getting out of the "pocket-size" range.
Compact/foldable
Full speed charging
Can also charge laptops/tablets
Expensive
No cable included
Single outlet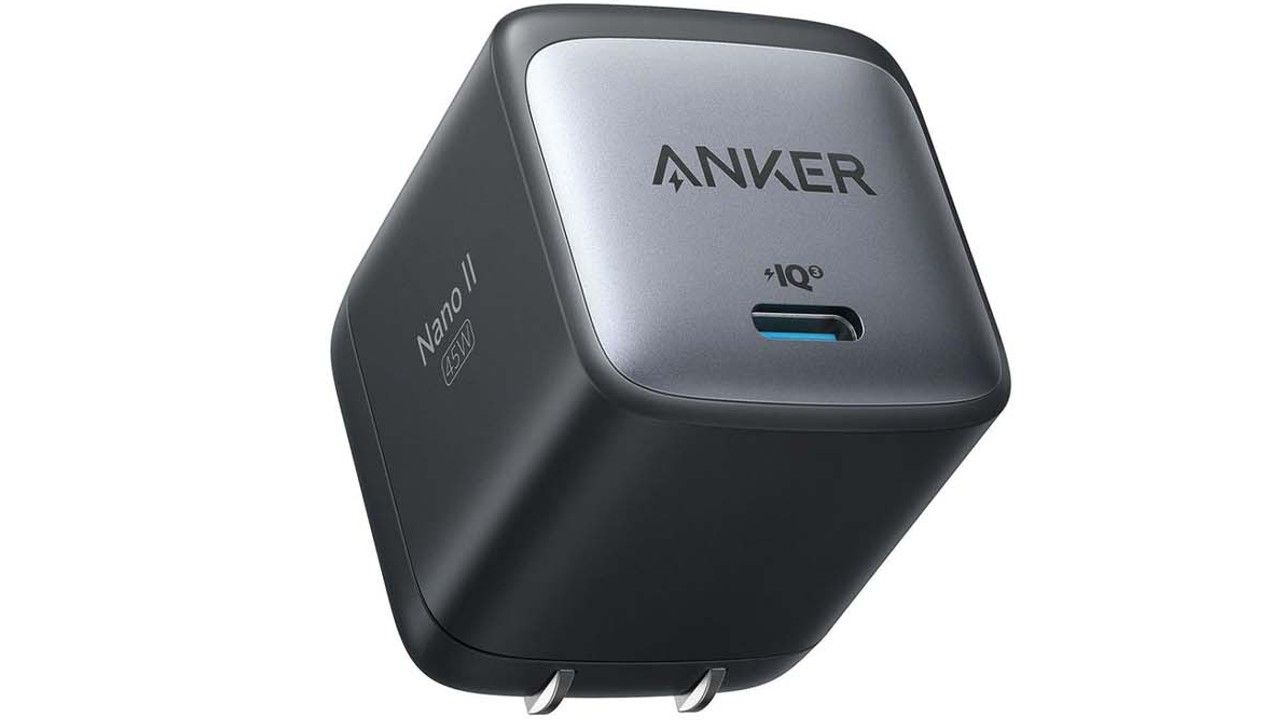 Anker 713 (Nano II 45W) USB-C Charger
Once upon a time, this was the only charger you could trust for Samsung's 45W charging, but these days it faces some steep competition. Stalwart and sturdy, but without folding prongs, the Samsung Super Fast Charging Wall Charger is much more suited to living at home or in your office than bouncing around in your gear bag. Initially, it only came in black, but white models are widely available now, too, and the charger comes with a matching cable rated to perfectly provide the power your S22 Ultra needs.
Samsung makes multi-port chargers that support its 45W Super Fast Charging, but it's been perilously hard to find and chunkier than the single-port charger. There are much better solutions for multi-port chargers, so if you just have to have a Samsung-branded charger — or you have some Samsung.com promotional credit to use up — stick with the single-port 45W model that's easy to find and easier to fit into your life.
Ships with cable
Full speed charging
Can also charge laptops/tablets
Single outlet
Not foldable
Expensive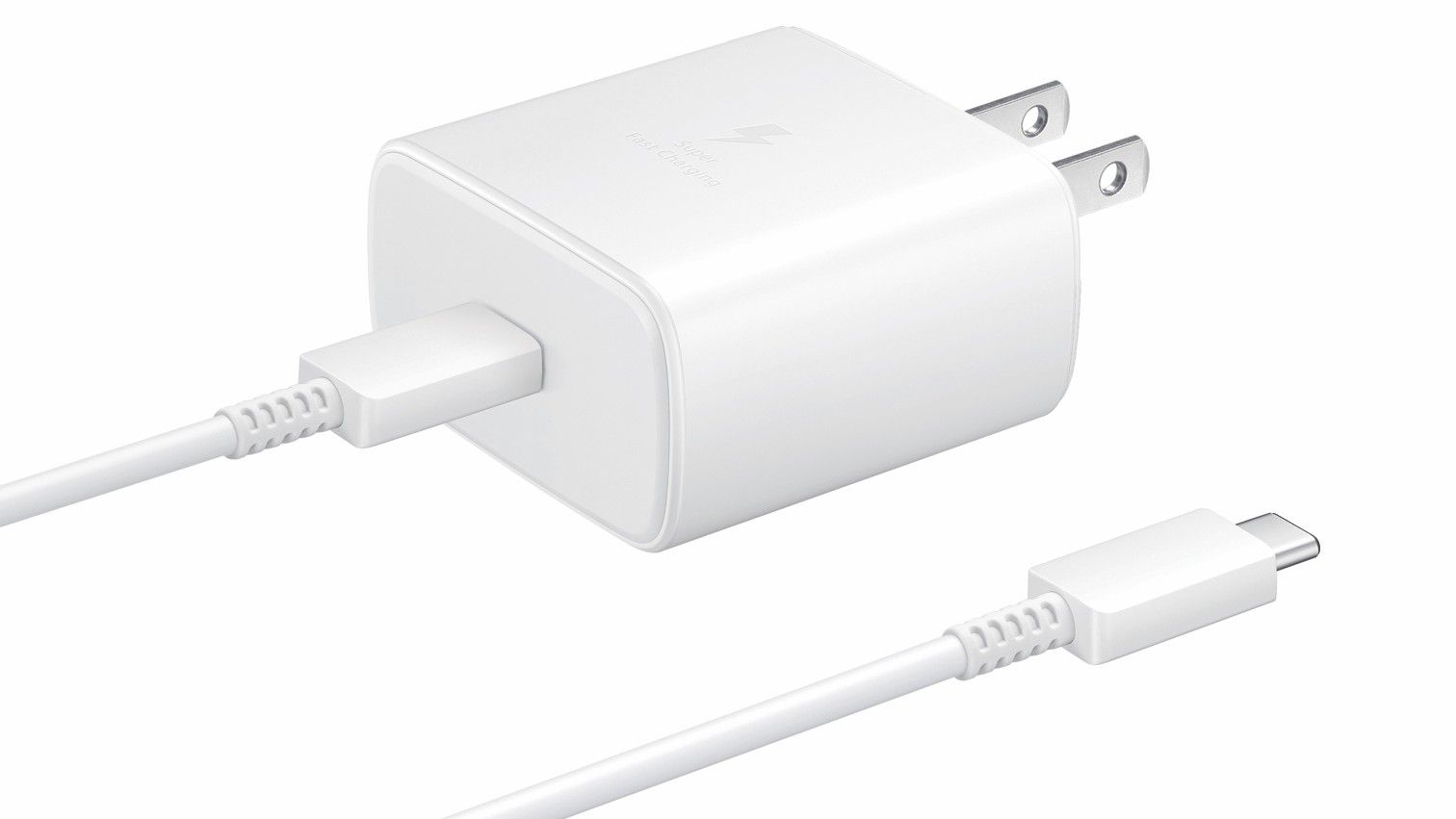 Samsung 45W USB-C Super Fast Charging Wall Charger
45W chargers that support Programmable Power Supply usually start in the $35-$40 range, but Nekteck has you covered if you simply cannot spare that much money. Designed as a laptop and Chromebook charger, this will also fast-charge your Galaxy S22+ or Ultra with ease. Plus, the cable is built in so that you can't forget it, and no one can steal it to use for something else. The permanently attached cable makes it slightly harder to pack up and travel with. Still, if you want an inexpensive Galaxy S22 Ultra charger for the home office or the nightstand, it'll fit easily into your life. The included cable is about six feet long, so you'll have plenty of slack to reach from the wall over to your nightstand/desk or up onto the bed for that Saturday morning doom scrolling.
Full speed charging
Can also charge laptops/tablets
Built-in cable
Price
Cable isn't removable
Bulky design
Single output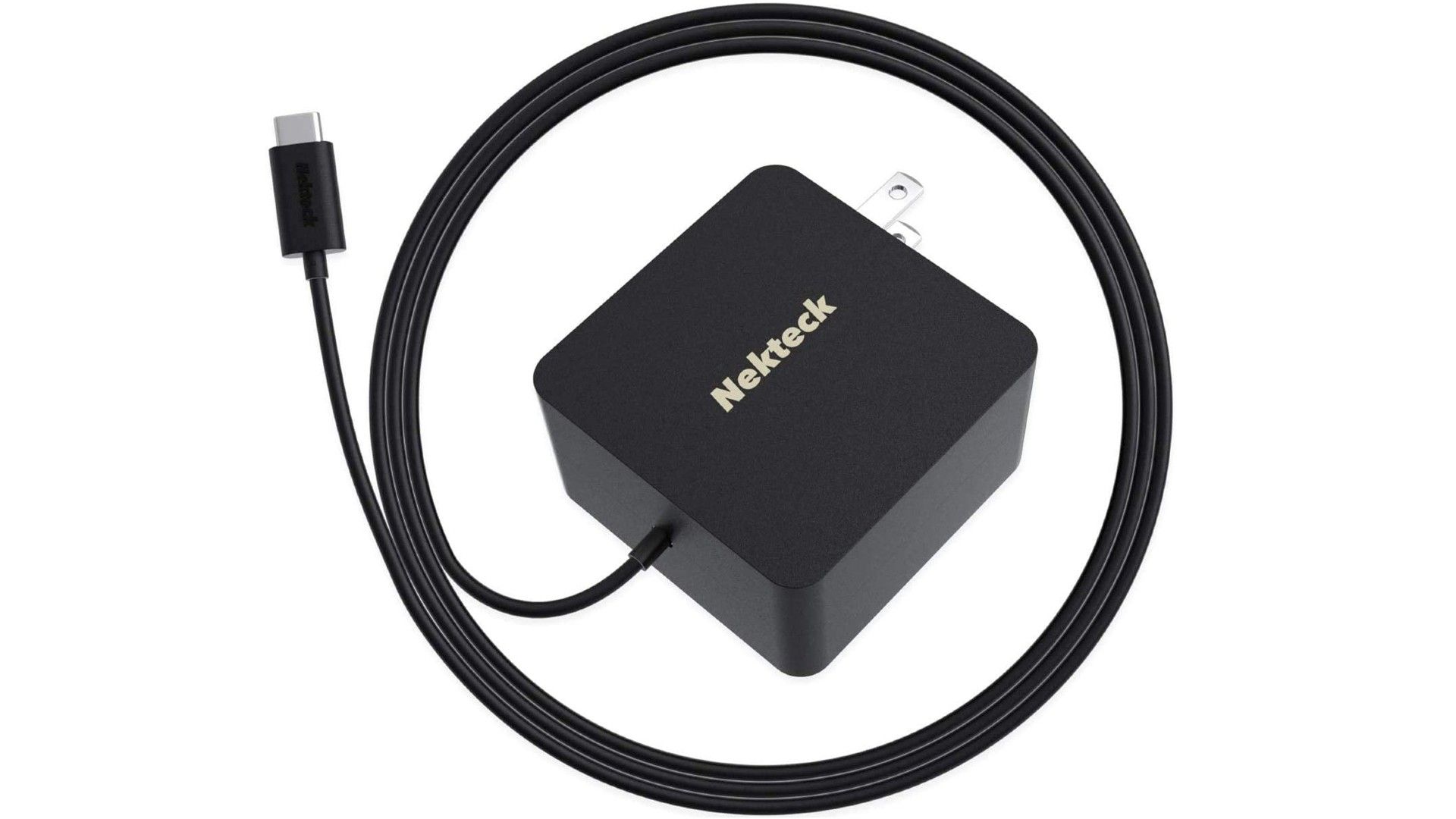 Nekteck 45W USB-C Wall Charger
AOHI is a relative newcomer to the GaN cube party. However, its 65W chibi of a charger looks great with a multi-color charging indicator, and the option of an included USB-C-to-C cable with an LED wattage readout. With a phone, like the Galaxy S22 Ultra, that can be finicky with chargers, AOHI's yellow/green/blue indicator can tell you with a glance if your phone is still fast-charging or has dropped down to a lower profile as the phone fills up (and heats up). While trickle-charging indicators are usually more important for lower-wattage devices like wireless earbuds, it's also handy for seeing if a device is full as it kicks over from regularly charging to just sipping power after it's had its fill.
AOHI's prongs don't fold in, a major bummer for a charger that's otherwise wonderfully compact and well-textured across the front. Still, it's so tiny that it won't take much room in your gear bag even with the prongs out. This charger comes in two colors, but the color of the charger is not the only difference between these listings: the white charger does not come with the LED-screen USB-C cable, but the black one does. The LED-screen cable will only charge your Galaxy S22 Ultra at 25W, so you'll need a different cable either way, but the with-cable version is often cheaper than the charger alone.
Multi-colored indicator light
Super-compact design
65W for laptop charging, not just 45W
Not all colors come with cables
LED cable only charges S22 Ultra at 25W
Discounts vary between colors widely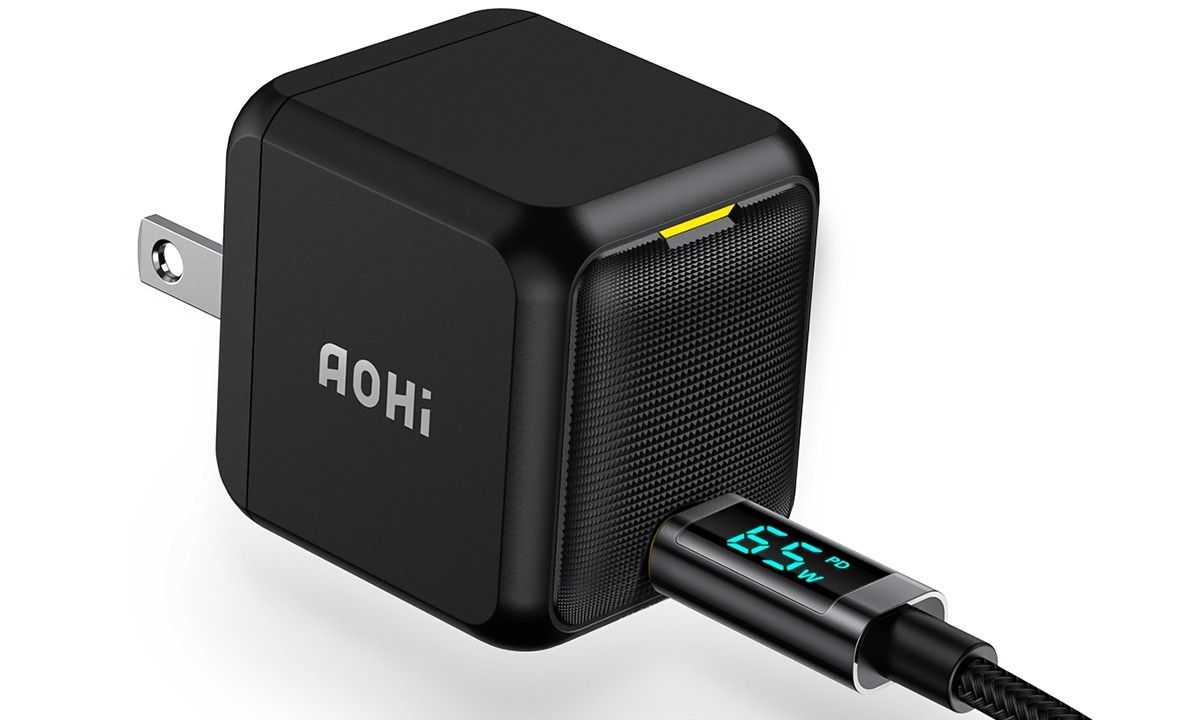 AOHI Magcube 65W PD USB-C Charger
Baseus's 3 Port foldable charger is very similar to UGREEN's, but the way it breaks down the power has one distinct advantage — and some slight disadvantages. First, the plus: the USB-A port can charge some devices at 60W, but the Galaxy S22 Ultra is not one of them. If you have a Qualcomm QuickCharge device that can use those higher speeds, this charger may become your best friend. For the rest of us, the USB-C ports are capable of 65W by themselves or 45W + 18W when used together.
The problem is you'll have to be careful which USB-C ports you use if you're using USB-A simultaneously. See, due to how Baseus breaks down its power distribution, only the top Type-C1 port can do 45W while another device is also in use. If you accidentally plug into C2 and USB, both devices will be stuck sharing 15W instead of your Galaxy S22+ getting 45W and your USB-A device getting 18W. However, it should be easy enough for users to remember that the Galaxy S22 Ultra always goes on top; after all, it is the best Android phone on the market today.
Full speed charging
Can also charge laptops/tablets at 65W
Three outlets
Cable included
Bulkier than some other options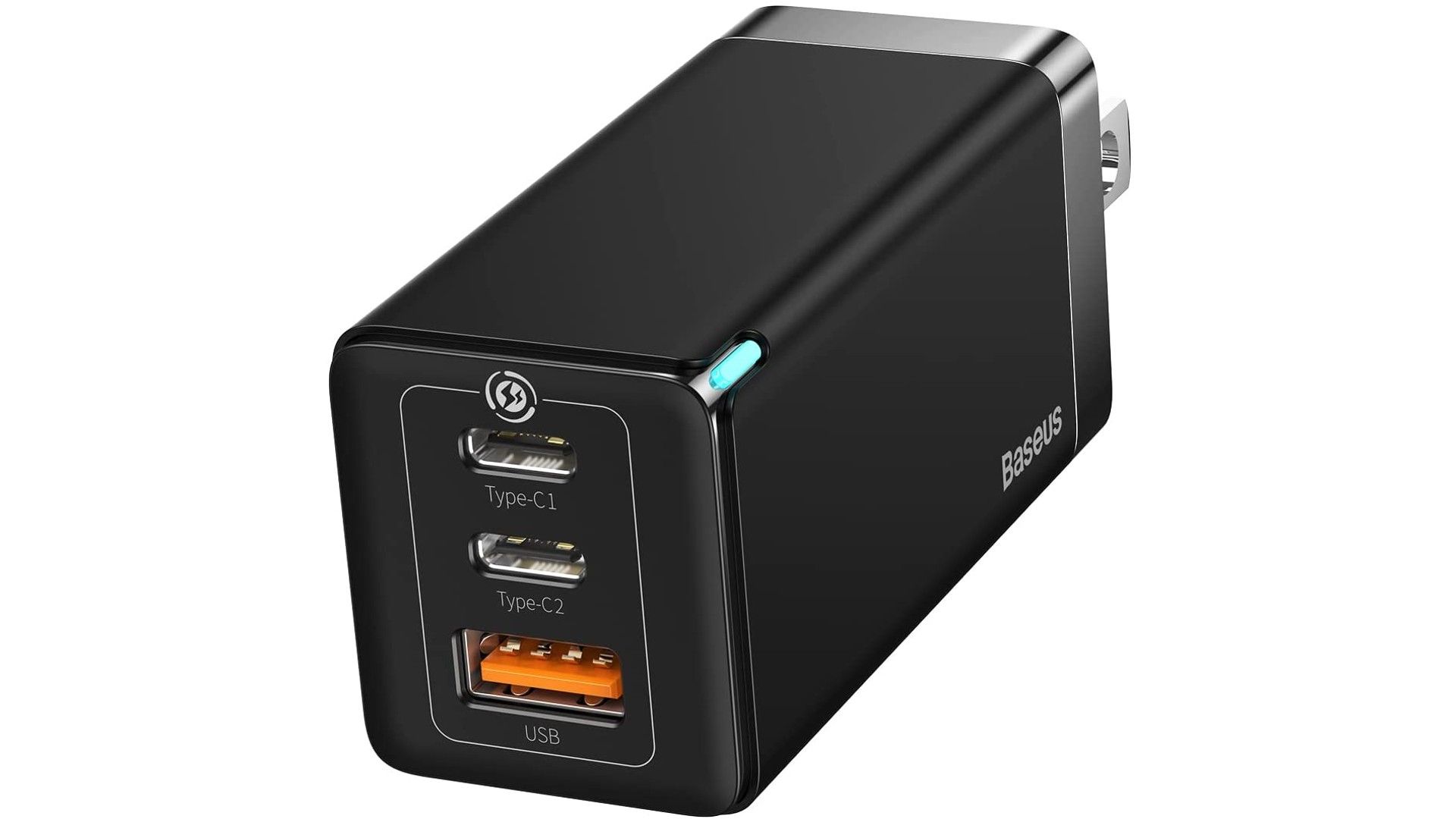 Baseus 65W 3-Port USB-C Wall Charger
This two-port Anker charger may be larger than UGREEN and Baseus's 3-port chargers — and Anker's own version, the 735 — but we recommend the 726 Nano II 65W because of power management. The 735's power-sharing is 40W+22.5W when using C1+A, which works out great for Apple users, but not owners who might be trying to charge their S22 Ultra and their Galaxy Watch 4. The 726 skips the USB-A port and instead gives us more stability and a lower price, both of which are highly appreciated. Speaking of cost, the list price is $60, but Anker will often discount the 726 Nano II 65W down to $55 or $46, so you might want to watch for one of these Deals of the Day before pulling the trigger.
Anker states that the 726 Nano II 65W "supports Super Fast Charging for S22 Ultra but does not support 45W Super Fast Charging 2.0." And indeed, it does fast-charge the S22 Series, but the phrasing here might indicate that its compatibility is tailor-made towards this particular phone series but might not charge future Galaxy phones at top speed. Samsung Super Fast Charging 2.0 and its 45W charging profiles have changed a bit in the last few years, but they haven't changed version numbers, which means things have gotten a little murky. That's more on Samsung than Anker, though. As a final note, Anker sells multiple chargers marked as Nano II 65W, so when buying, be sure it's the 726 and not one of its siblings.
Charges Galaxy S22 Ultra at 45W while both ports are in use
Folding prongs for easier travel
Superb build quality
Expensive
The always 45W port is the bottom, not the top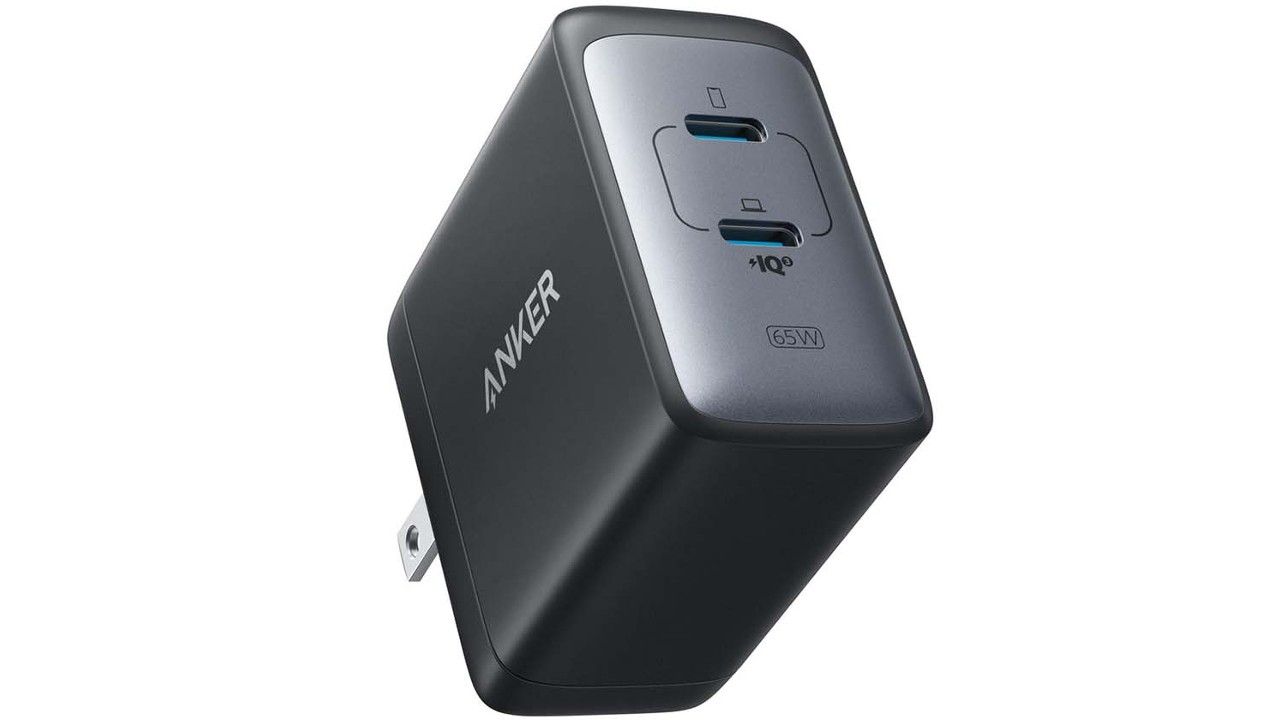 Anker 726 (Nano II 65W) PPS USB-C Charger
Spigen provides much more than cases these days, and its Galaxy-geared GaN charger might not be ultra-compact, but it works well and won't break the bank. The Necktek will save you a few extra dollars, but the Spigen ArcStation Pro will earn those extra dollars because the cable is detachable, and the prongs fold in. Gallium nitride semiconductors allow chargers like the ArcStation Pro to charge more efficiently with less heat build-up. It makes for smaller, cooler, more powerful chargers that we all can enjoy without burning our fingers when we need to move the charger from room to room.
I wish the connectors on Spigen's cable weren't quite so long, but it's still easy enough to use. Gallium nitride semiconductors allow chargers like the ArcStation Pro to charge more efficiently with less heat build-up. It makes for smaller, cooler, more powerful chargers that we all can enjoy without burning our fingers when we need to move the charger from room to room. I wish the connectors on Spigen's cable weren't quite so long, but it's still easy enough to use.
Compact and foldable
Ships with cable
Uses GaN for less heat build-up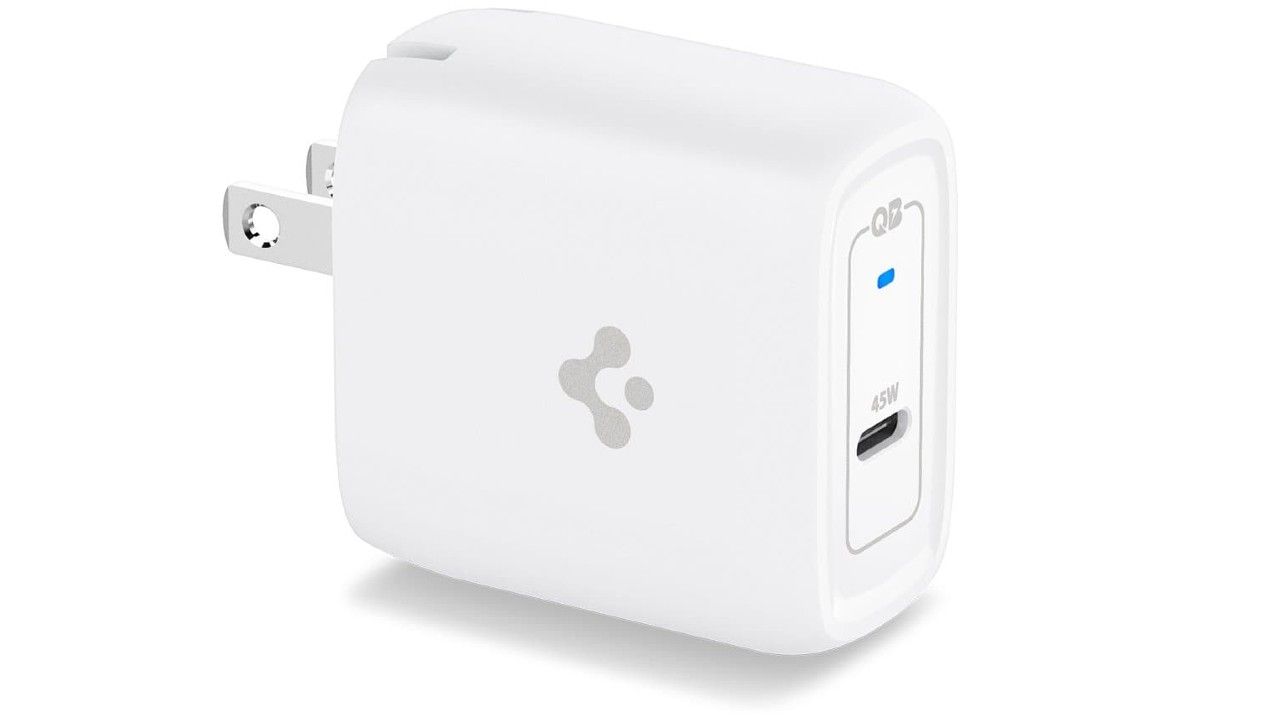 Spigen 45W USB-C GaN Charger
Want a charger but don't want a block sticking right out of a wall like an eyesore? Yeah, me, too. Get refined and get flexible with a desktop charger instead. This 100W model from UGREEN can charge two Galaxy S22 Ultras at 45W or charge both a laptop and your S22 Ultra at those speeds. If you need to charge three USB-C devices, you can charge the S22 Ultra at 45W, a second device at 30W, and a third at 20W. Getting back to its form factor, this wonderfully compact desktop charger won't be the eyesore on your desk that older models were. Thanks to GaN semiconductors inside, it shouldn't generate as much heat either, even when charging four devices.
Easier for desks and tables
Can charge two Galaxy S22 Ultra at 45W at once
100W with better multi-port power distribution
Expensive
Only comes with its own power cable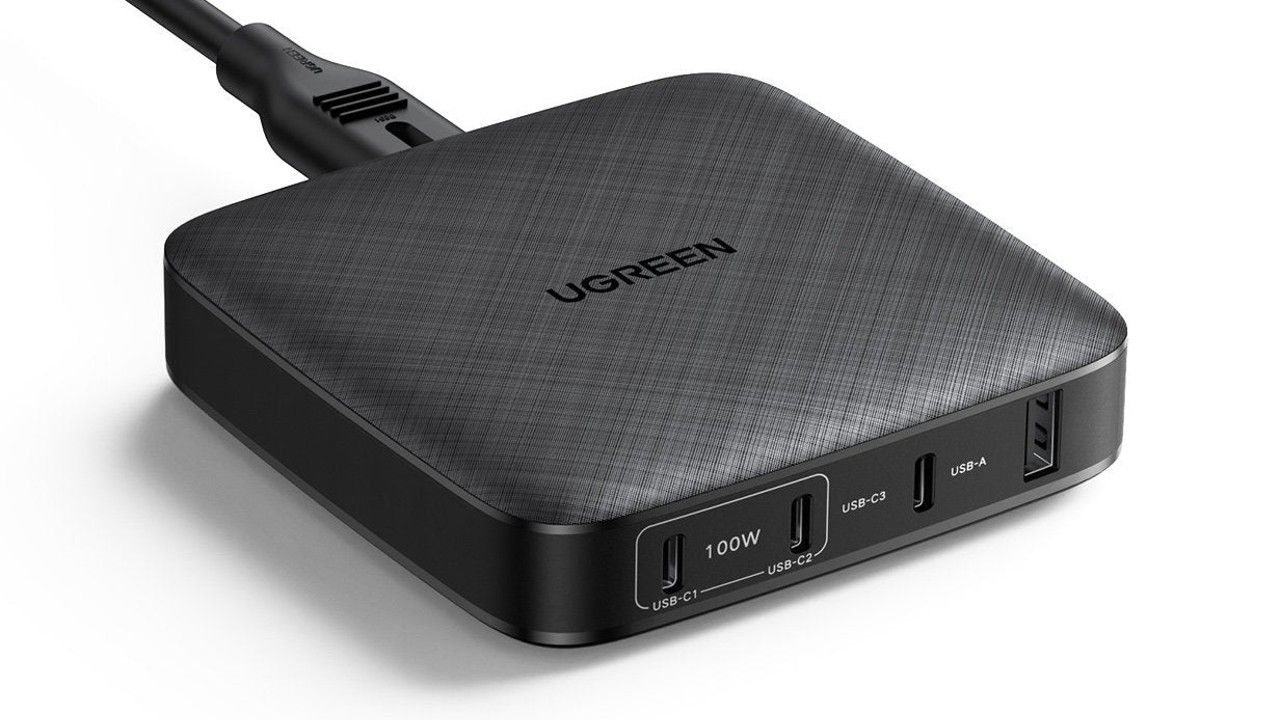 UGREEN 100W USB-C Desktop Charger
The best Galaxy S22 Ultra chargers are flexible
While Samsung's 45W Super Fast Charging Wall Charger was basically the only 45W charger you could trust back in the Note 20+ era, these days, reliable PPS chargers that work with Samsung's unique charging profiles are plentiful and affordable. Anker's Nano II series gives us highly dependable, travel-friendly options in both single-port and dual-port styles. The Nano II 45W charger is my current "daily driver" charger, effortlessly serving my Galaxy S22 Ultra, Pixel 6, and whichever three Chromebooks I'm using this week. While AOHI's Magcube is a higher wattage for the same price (or less, once you factor in the cable), its prongs don't fold, and Anker's do, which gives Anker an edge.
For a multi-port charger, the Baseus 3-Port and UGREEN 3-in-1 might look like clones, but they demonstrate the importance of power distribution. When both USB-C ports are in use, UGREEN offers 45W + 20W while Baseus does 45W + 18W. That extra 2W might not seem like much, but every extra bit of power helps. The same goes for when all three points are in use, and the bottom two ports share 19W instead of the Baseus's 15W.
For a little more elegance and less "block sticking directly out from an outlet," UGREEN also offers a 100W 4-Port Desktop Charger, charging two Galaxy S22 Ultras at max speed. If you and your partner are both Ultra or S22+ users, this is a perfect travel charger when you might need to snake the cable back behind the bed in a hotel room.
As a final note about charging the Galaxy S22+ and Ultra at 45W, your cable matters, too, not just the changer. This is why many PPS chargers come with a cable in the box to get your proper speeds (and don't claim the charger is broken and return it when your ratty old cable was to blame). If your charger doesn't come with one, make sure you're grabbing one of the best USB-C cables you can, ideally a cable rated to 100W of power (a 5A (amp) cable).
Save money buying more wattage than your Galaxy S22 Ultra needs
You can only reach charging speeds of 45W on the Galaxy S22+ and S22 Ultra, no matter how powerful the charger might be. So why would you buy a beefier charger? Popularity and economy of scale.
See, 45W may be the speed that the Galaxy S22 Ultra and basically all Chromebooks use, but most laptops in the USB-C age charge at rates from 65W-100W. This means there is a bigger market for 65W chargers and 100W than for 45W, especially as higher-speed PD chargers can still charge lower-wattage devices like your phones or your wireless earbuds. Since 65W chargers sell more frequently than 45W, it's easier for companies to make them at a larger scale for a lower price. Frequent sales then help each model stand out from a very, very crowded pack.
We hope you like the items we recommend and discuss! AndroidPolice has affiliate and sponsored partnerships, so we receive a share of the revenue from some of your purchases. This won't affect the price you pay and helps us offer the best product recommendations.